Extreme Attractions
Get the Bounce Party Experience!
With Risk Free Delivery & Setup
In Tampa Florida Surrounding Area
Book Your Extreme Ride!
Transform Your Party Into an Action Packed Carnival!
Welcome to Bounce Party of Tampa! your go-to source for thrilling extreme rides that will transform any event into an unforgettable experience. As a locally owned and operated company, we uphold strong core values and are committed to customer satisfaction. Our range of attractions, from the towering 28 ft Rock Wall Rental to the exhilarating Euro Bungee Trampoline and the pulse-pounding Toxic Meltdown, are designed to cater to every thrill-seeker and create memorable experiences.
Why Bounce Party of Tampa is Your Best Choice for Extreme Rides:
Quality Equipment: All our units are professionally cleaned and maintained to ensure safety and enjoyment.
Customer Satisfaction Guarantee: If for any reason you're dissatisfied with your purchase, we'll refund a portion of your purchase and give you a credit for a future purchase.
Community Commitment: As a locally owned and operated business, we're dedicated to giving back to our community, participating in local events, and donating a portion of our profits to local charities.
Test Your Balance with the Toxic Meltdown
Brace yourself for an electrifying challenge with our Toxic Meltdown ride. This extreme attraction is not just a test of balance and agility—it's a battle against the spinning, unpredictable platform that will keep participants on their toes and spectators on the edge of their seats. As the ride spins and jolts, participants will need to jump, duck, and dodge to avoid the swinging arms, leading to endless fun, laughter, and memorable moments. Whether you're a participant striving to stay on the platform or a spectator cheering on the brave contenders, the Toxic Meltdown ride by Bounce Party of Tampa promises a whirlwind of excitement and entertainment for both the participants and the audience cheering them on! It's a unique, thrilling addition that will make your event truly unforgettable.
Get the Bounce Pary Experience!
Experience the Gravity-Defying Thrill of Our Euro Bungee Trampoline
Dive right into the heart-pounding excitement of our Euro Bungee Trampoline! This crowd favorite attraction is more than just a ride—it's an adventure that catapults you into a world of gravity-defying fun. Participants will feel the exhilarating rush of bouncing higher than they've ever gone before, while spectators get captivated by watching the jumpers soar to big heights and thrilling flips. This carnival ride is suitable for thrill-seekers of all ages, our Euro Bungee Trampoline is the perfect centerpiece for any event, promising a unique, unforgettable experience that will have guests talking long after the party ends as they run to the back to get back in line to jump even higher than last time.
Book Online Now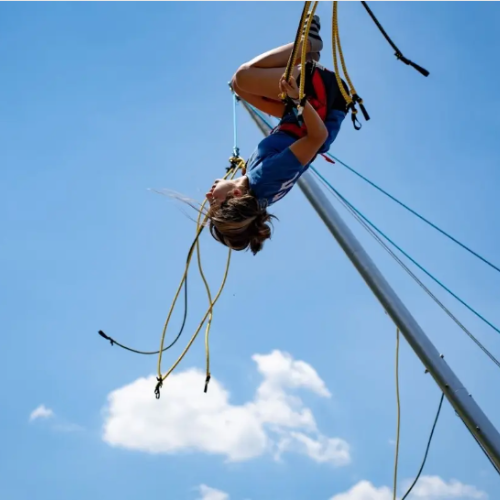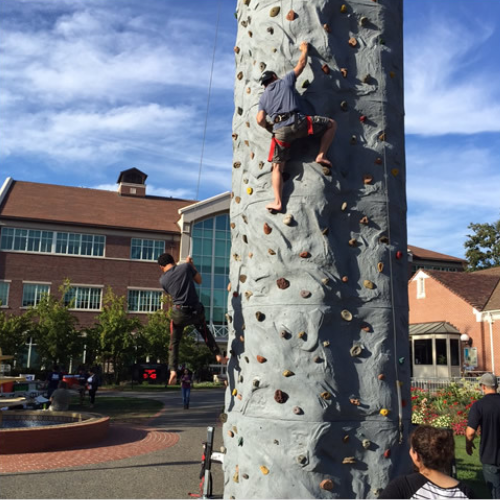 Conquer Heights By Challenging Our Rock Wall Rental
Can you make it to the top? Our towering 28 ft Rock Wall Rental is jaw-dropping fun for all attraction that isn't just a ride—it's a test of courage, strength, and determination. Whether you're a solo adventurer or part of a daring duo or trio, our rock wall from Bounce Party of Tampa is a thrilling challenge that's sure to get the hearts of your spectators racing. Our rock wall rentals are an excellent tool for building teamwork, fostering friendly competition, and promoting physical fitness. This is one extreme adventure ride that the playing field is even with boys and girls as they must both pull their body weight to the top first and here's a tip: big muscles are not an advantage when going head to head on our awesome rock wall rentals in Tampa. With its imposing height and challenging routes, our rock wall rental is more than just a ride—it's a memorable adventure that will add a unique, exhilarating edge to your event.
Book Online Now
Experience Unforgettable Fun with Bounce Party of Tampa's Carnival and Fair Rides
Are you organizing a large event in the Tampa area? Are you looking to make it memorable and fun-filled for all participants? Look no further than Bounce Party of Tampa, a company that specializes in renting out carnival and fair rides that will take your event to an entirely new level. From community fairs to corporate events, birthday parties to family reunions, our carnival rides have consistently proven to be crowd-pleasers.

Carnival and fair rides are not just about fun. They are about creating lasting memories. Whether it's the thrill of a ride on the Toxic Meltdown or the challenge of scaling our portable Rock Wall, these experiences will leave your guests talking about your event for years to come.

At Bounce Party of Tampa, we offer a wide array of carnival and fair rides designed to cater to people of all ages and preferences. Our standout offerings include the adrenaline-rushing Toxic Meltdown, our challenging portable Rock Wall, and the exhilarating Bungee Trampoline.
Unleash the Competitive Fun with The Toxic Meltdown
The Toxic Meltdown stands alone as an undisputed crowd-favorite among our thrilling carnival rides. This inflatable marvel beckons participants to embark on a pulse-pounding adventure where their agility and quick reflexes are put to the ultimate test. Picture this: you find yourself perched atop a podium, surrounded by rotating arms that challenge your every move. With a surge of adrenaline, you leap, duck, and weave to evade the relentless arms while trying to maintain your balance.

Unquestionably, the Toxic Meltdown is not just a ride; it's an exhilarating last-man-standing game that stirs up the competitive spirit in each and every participant. The infectious atmosphere of merriment and camaraderie envelopes all who dare take the challenge, forging unforgettable memories with friends and family.

The sheer joy and laughter that emanate from the participants and onlookers alike transform this carnival ride into an embodiment of pure delight. From kids to adults, everyone finds themselves engrossed in the contagious excitement, making it an all-encompassing experience for people of all ages.

Attracting adventure-seekers from far and wide, the Toxic Meltdown is the epitome of wholesome fun and heart-pounding action. You won't find a better attraction to entice visitors and ensure they have an unforgettable time at your carnival. So, come one, come all, and immerse yourself in the mirthful madness of the Toxic Meltdown - where laughter, thrills, and cherished moments collide!
Experience Thrilling Adventure: Conquer Our Portable Rock Wall!
Discover the ultimate adventure at your event with our sensational portable Rock Wall rental! This adrenaline-pumping attraction is a thrilling addition that guarantees an unforgettable experience for all ages. Embrace the spirit of exploration and challenge your guests to conquer the towering heights of the rock wall while basking in the assurance of a secure and supervised environment.

Whether you're hosting a corporate gathering, a school event, or a family celebration, the Rock Wall promises to captivate and entertain both children and adults alike. Watch as the excitement builds, and participants push their physical limits, testing their strength, agility, and endurance to make it to the pinnacle of triumph!

Not only does this Rock Wall Rental offer a fantastic test of skills, but it also serves as a fantastic photo opportunity. Imagine capturing those victorious moments when your guests conquer the summit, with beaming smiles and triumphant poses. These cherished memories will serve as a testament to the thrill and joy your event provides.

So, elevate your occasion with our portable Rock Wall rental and elevate the fun to new heights! Let us bring the adventure to your doorstep while ensuring everyone can partake in the excitement, creating an unforgettable and inclusive experience for everyone involved. Don't miss out on this opportunity to make your event truly extraordinary!
Defy Gravity With Our Bungee Trampoline
Experience the ultimate adrenaline rush with our Euro Bungee Trampoline, where excitement knows no bounds! This extraordinary attraction seamlessly blends the heart-pounding thrill of bungee jumping with the pure delight of trampolining, creating a mesmerizing adventure that leaves participants in awe. Prepare to be catapulted into the air, defying gravity with each daring leap, and unleashing your inner acrobat as you execute mesmerizing flips and somersaults with absolute safety and security.

Our Euro Bungee Trampoline guarantees an unforgettable and exhilarating experience, catering to the young and young-at-heart alike. Feel the rush of wind against your face and the palpable excitement in your heart as you soar through the air, enjoying a sensation like no other. Whether you're an adrenaline junkie or seeking a new and unique adventure, this attraction promises to deliver thrills that will leave you yearning for more, time and time again.

Join us for an unforgettable escapade that will etch precious memories in your mind forever. The Euro Bungee Trampoline is an absolute must-try for thrill-seekers and families alike, offering an unmatched blend of excitement, safety, and pure exhilaration. Step right up and take the leap – an extraordinary journey awaits you!
Safe Fun and Unforgettable Memories with our Carnival Ride Rentals in Tampa
At Bounce Party of Tampa, we understand that safety is paramount when it comes to carnival and fair rides. That's why all our equipment undergoes rigorous safety checks before they're rented out. We also provide staff who are trained in operating these rides safely so you can focus on enjoying your event while leaving worries behind.
More than just offering carnival rides for rent, we at Bounce Party of Tampa take pride in delivering top-notch service tailored to your needs. We handle everything from delivery to setup and breakdown after your event ends so you can focus on what really matters — making beautiful memories with those who matter most.
If you're planning a large event in Tampa and want something more than just food and music, consider renting carnival or fair rides from Bounce Party of Tampa. With our unique range — from Toxic Meltdown to portable Rock Wall and Euro Bungee Trampoline — we promise an unforgettable experience that combines fun, excitement, challenge and laughter into one perfect package.
Give us a call today
at Bounce Party of Tampa - Your best choice for memorable events filled with non-stop fun!
What Is Included In Our Extreme Attractions Rentals?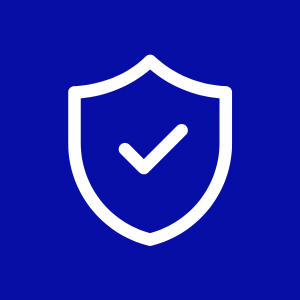 Safety Equipment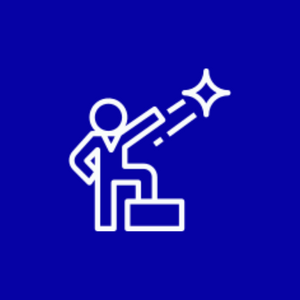 Professional Operator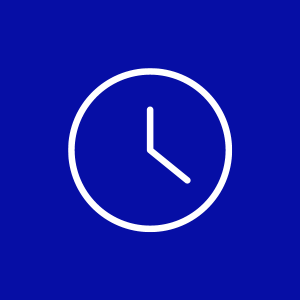 Hours of Fun!
Do You Deliver Rock Walls Near Me?
With Bounce Party of Tampa, the answer is YES! Looking for a bounce house with slide or water slide rentals in your area? Well, you have come to the right place. Bounce Party of Tampa is a guaranteed hit! We have been supplying all the fun and excitement all along the Hillsborough & Pasco county area for years. We specialize in party rentals for events such as but not limited to backyard parties, school festivals, birthday parties, church carnivals, high schools and businesses. We deliver the fun to your location with Attendants, Water Slides, Bounce Houses, Dry Slides, Bounce Houses with Slides, Obstacle Courses, Interactives, Tables & Chairs, Concessions, Games
Our Service Area
Proud to Serve The Following Areas:
Brandon
Clearwater
Land-o-Lakes
Largo
Lutz
Odessa
Palm Harbor
St Petersburg
Tampa
Wesley Chapel
All areas in between
If your party or event is beyond that radius, just let us know! We may be able to make special accommodations to suit your event.
NOTE: Fees may vary depending on how far you are outside our service area.
Looking for More Bounce and Thrills? You May Also Like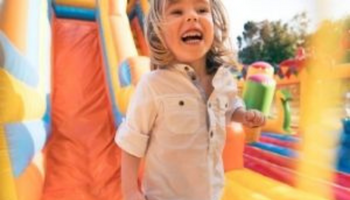 Bounce House Rentals
You can't go wrong with any of our inflatable bounce house rentals. Whether you're looking to host a backyard party and need a simple colored bounce house or your party needs a large bounce house, we've got you covered.
Water Slides
Slide into a summer filled with fun with water slide rentals from Bounce Party of Tampa! Whether you're renting for an adult or a child, our inflatable water slides are perfect for any age and great additions to our Foam Parties!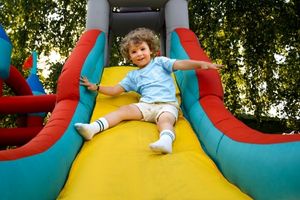 Bounce & Slide Combinations
Taking a bounce house and adding a slide is the perfect way to add fun to your next aprty, but combing it with one of our Foam Party rentals will really take it over the top! That is the perfect way to create a memorable event.
What Customers Say About Bounce Party of Tampa
Frequently Asked Questions About Carnival Rides and Extreme Attractions
What are the different attractions offered by Bounce Party of Tampa?
At Bounce Party of Tampa, we offer a wide range of attractions to make your event unforgettable. Our offerings include the Euro Bungee Trampoline, a 28 ft Rock Wall Rental, and the Toxic Meltdown ride. Each of these attractions provides a unique, thrilling experience for participants of all ages.
What is the Euro Bungee Trampoline?
The Euro Bungee Trampoline is an adrenaline-pumping attraction that allows participants to bounce high into the air, performing flips and tricks while securely harnessed. It's a crowd-pleasing spectacle that's perfect for all ages and a guaranteed hit at any event.
What is the 28 ft Rock Wall Rental?
Our 28 ft Rock Wall Rental is a towering attraction that challenges participants to climb to new heights. Available for single, double, or triple climbers, this extreme ride is perfect for building teamwork, encouraging friendly competition, and adding excitement to any event.
What is the Toxic Meltdown ride?
The Toxic Meltdown ride is a thrilling challenge that tests participants' balance and agility. As the ride spins and jolts, participants must jump, duck, and dodge to avoid the swinging arms. This extreme attraction offers endless fun and laughter for participants and spectators alike.
What is included in the rental of these attractions?
Our rental package includes everything you need for a day of unforgettable fun: the chosen attraction, state-of-the-art safety equipment, a professional operator to ensure everything runs smoothly, and hours of non-stop fun!
Do you deliver these attractions to my location?
Yes, we deliver our attractions to your location. Our team will handle the setup and take down of the attractions, ensuring a hassle-free experience for you.
Are these attractions safe?
Absolutely! Safety is our top priority. All our attractions are inspected and maintained regularly to ensure they meet the highest safety standards. Additionally, our professional operators are trained to oversee the safe operation of our attractions at your event.
What age group are these attractions suitable for?
Our attractions are designed to be enjoyed by all age groups. Whether it's children, teenagers, or adults, everyone can have a great time with our Euro Bungee Trampoline, 28 ft Rock Wall Rental, and the Toxic Meltdown ride.
How can I book these attractions for my event?
Booking our attractions is easy. You can contact us directly through our website or call us at our listed number. Our friendly staff will guide you through the booking process, ensuring you get the perfect attractions for your event.