Your Best Choose For Inflatable Obstacle Course Rentals In Lutz!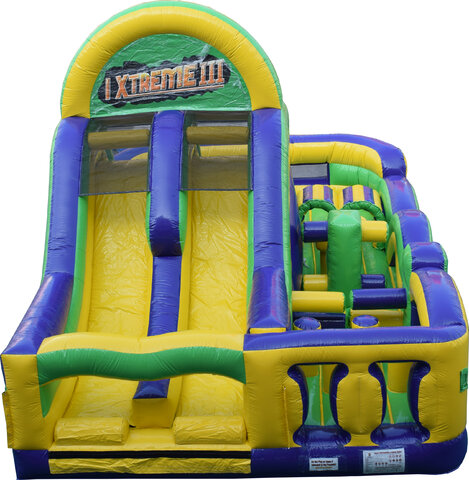 Featured Inflatable Obstacle Course
Extreme dry Obstacle & slide
This 29' Extreme Dry Obstacle & Slide has an extreme look that would go along with any party or event. This 29 foot obstacle course offers all of your favorite elements such as - tunnels, pop-ups, lateral log squeezes, and a challenging wall to scale. After racing through all that obstacle course, you'll finally meet the inflatable rock climbing wall leading to an amazing full sized inflatable slide. This inflatable obstacle course is ideal for many outdoor events, including birthday parties, family reunions, Fourth of July celebrations, carnivals, barbecues, fundraisers, and more. Whether for personal use, company outings, or for rental purposes, this inflatable slide will suit your outdoor entertainment needs.
Book Now!
Obstacle Course Bounce House Rentals In Lutz
Get ready for the most challenging obstacle course rentals in
Florida! We have a huge selection of the best inflatable obstacle courses across the entire state and we have something for nearly any party or event. You can't go wrong with any of our obstacle course rentals. Get your group together for these exciting obstacle course rentals in Lutz. Whether you're looking to host a backyard party in Lutz and need a shorter, simple colored obstacle course or your party needs the ultimate challenge course, we've got you covered. Not only does our Obstacle Course offer all of the favorite elements the kids love - tunnels, pop-ups, lateral log squeezes, and a challenging wall to scale, but our Obstacle Course includes an inflated rock climbing wall leading to a full sized inflatable slide. It's perfect for almost all ages of children and youth. Great team-building exercise for corporate events, schools, and church groups, or rent one if you're just having a fun family gathering and you would like to add that extra attraction that brings everyone together.
We have been delivering fun to Lutz for years and our obstacle courses are always some of our most requested items for both back yard parties as well as school events, church festivals and corporate team building and parties. We love seeing the smiles on everyone's faces when they see us drive up because they know we are about to deliver some fun items for the day. Being a local leading provider for party rentals in Lutz, we take great pride in being able to help people in our community host parties and events to create smiles and memories for others in our community.
There are a number of reasons our customers keep coming back for more and they talk about them in
the reviews they leave us.
We provide some of the absolute best customer service in all of Lutz. Rest easy knowing when you rent an obstacle course or other party item from Bounce Party of Tampa, it will be commercial grade, high-quality inflatable with all of the latest features designed to keep participants safe. Our inventory is second to none with the latest and greatest of all the popular themes or designs so it never gets old. We constantly rotate our assortment of obstacle courses and inflatable fun to ensure we provide new options to choose from. It doesn't matter the type of party because we are sure there is something to fit just what you need.
If you are not sure which one of our obstacle courses is right for your party, we are just a phone call away. Reach out to us and one of our friendly staff members will help you choose the right items for your party location, the size of your party and age group of kids.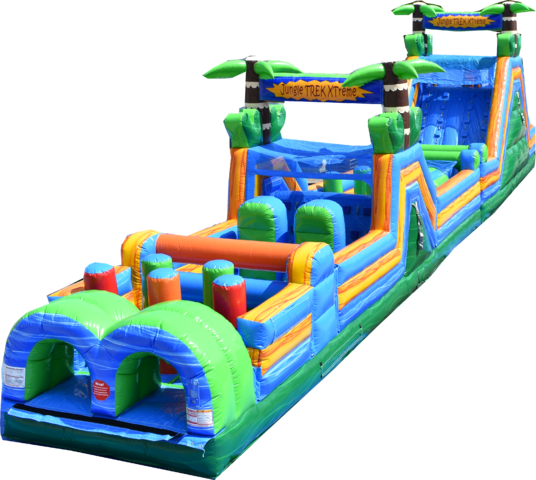 Jungle Trek rock climb dry slide
The Jungle Trek rock climb dry slide obstacle is an awesome event for any party or event! This Obstacle Course is a 70' long challenge with horizontal and verticle obstacles as well as a massive slide to navigate before sliding to the finish! The challenge is on! Race through the opening caves and up an inflatable rock climbing wall that leads down the slide. This Jungle Trek is perfect for any backyard party to a school event, festival, or church fall festival.
Book Now!
Bounce Party of Tampa Offer Obstacle Course Rentals in Lutz

Add fun and excitement to your next party with one of our obstacle courses! Inflatable Obstacle Course Rentals are a great spotlight or stand-alone piece for just about any type of party rental. Bounce Party of Tampa offers a huge selection of obstacle course rentals from race obstacles to playground obstacles. Our delivery area is huge! We deliver to all around Lutz, FL.

We are a locally owned and operated company in the Lutz, Florida area. Our company is licensed and fully insured. When reserving an inflatable obstacle course or other rental item for your party or event, put your trust in Bounce Party of Tampa like thousands of other happy customers. If there is one thing certain, you can rest easy knowing our friendly office staff and delivery crews will handle everything. We strive to take the stress of planning a party away as much as possible so you can focus on having a fun time at your party. All you need to do is give us your party details and let us handle the rest. It's that easy!

Your child and guests deserve high-quality obstacle course rentals that are cleaned and sanitized. Rest assured, at Bounce Party of Tampa, all our equipment is inspected, sanitized and cleaned after each rental for your children's safety. We take great pride in providing a high-quality offering of interactive game rentals in Lutz for your parties or events. All of our inflatables and other rental units are thoroughly inspected and in tip-top shape ready to go for your event. Many of us are parents too and if we wouldn't let our children use one of our rental items, we will not let your children. Our experienced staff also knows how to properly set up your rental items to keep them in place, again to protect your party guests. They will also show you how to use the rental items you choose so you won't have to stress about that either. While we may not have the cheapest interactive game rentals in Lutz, we offer competitive pricing for the level of customer service we provide and equipment. Our customers love us for their parties because they know they can count us on to deliver on time, every time and have clean inflatables and exceptional customer service focused on safety. That is the Bounce Party of Tampa!
Inflatable Obstacle Course Rentals for Any Lutz Party or Event!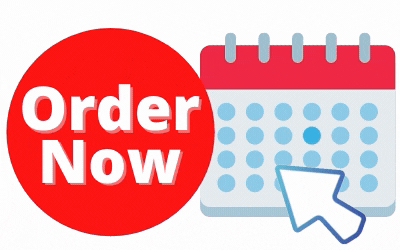 Not only is the ordering process seamless, the confirmation, setup, and pickup process is a breeze as well!

You can either choose to rent your inflatable obstacle course and other items yourself with our easy online ordering process, or you can choose to call, email, or live chat with one of our team members and they will take you through the ordering process.

After you rent a obstacle course, a member of our team will contact you within 24 hours to review and confirm the order. Then, on the day of the event, your delivery driver or team will call you to verify the window in which they plan to arrive. Once we arrive, we will:

1. Set up the equipment in the safest location possible.
2. Collect payment if anything is due.
3. Show you how to operate the equipment safely (event attendants are also available for an additional charge if you would like us to stay and operate the equipment).
4. Answer any questions you may have and verify pickup time.

That's it! A simple and fun way to rent an obstacle course for your party.
Do You Deliver Inflatable Obstacle Course Rentals Near Me?
With Bounce Party of Tampa, the answer is
YES!
Looking for a bounce house with slide or water slide rentals in your area? Well, you have come to the right place. Bounce Party of Tampa is a guaranteed hit! We have been supplying all the fun and excitement all along the Hillsborough & Pasco county area for years. We specialize in party rentals for events such as but not limited to backyard parties, school festivals, birthday parties, church carnivals, high schools and businesses. We deliver the fun to your location with
Attendants
,
Water Slides
,
Bounce Houses
,
Dry Slides
,
Bounce Houses with Slides
,
Obstacle Courses
,
Interactives
,
Tables & Chairs
,
Concessions
,
Games
Our Service Area
Proud to Serve The Following Areas:
If your party or event is beyond that radius, just let us know! We may be able to make special accommodations to suit your event.
NOTE: Fees may vary depending on how far you are outside our service area.
People That Rented Inflatable Obstacle Course Bounce House Also Shopped For: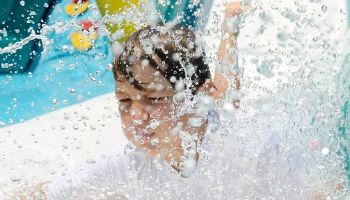 Water Slide Rentals
Slide into a summer filled with fun with water slide rentals from Bounce Party of Tampa! Whether you're renting for an adult or a child, our inflatable water slides are perfect for any age!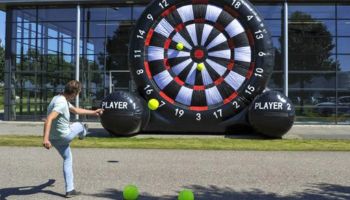 Interactive Game Rentals
Step right up to the best Interactive Game Rentals for your next event! Bring the crowd together with party games that can be set up at many locations. Many of our party games can be set up indoors or outdoors.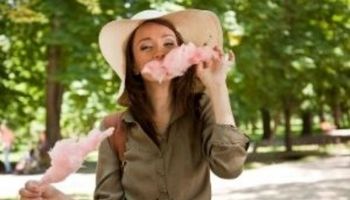 Concession Rentals
No party or event in Lutz is ever complete without concessions to keep your party fed and happy! Rent any of our cotton candy, snow cones, popcorn machines, and more!
Frequently Asked Questions About Inflatable Obstacle Course Rentals