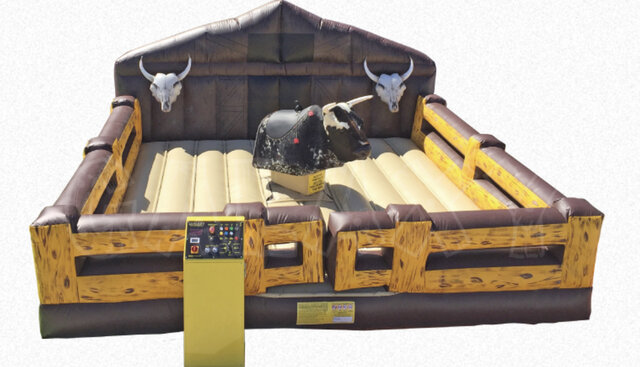 Mechanical bull
Setup Area: 30ft x 30ft
Outlets: 110-240 single phase drawing 10-16amps
Attendants: 1 (included in pricing)





$1,200.00

Free delivery & setup



*Price includes attandant
Introducing our thrilling Mechanical Bull, soon to be the star attraction at your next event! Get ready for an exhilarating ride that will leave your guests on the edge of their seats.
Designed with state-of-the-art technology and built to ensure both safety and excitement, our Mechanical Bull offers an authentic rodeo experience. Whether you're hosting a birthday party, corporate event, or even a wild-west themed gathering, this bull is sure to be a crowd-pleaser.
Featuring a realistic bull body with a durable exterior, riders will feel like they're taming a real beast. The bull is equipped with adjustable speed settings, allowing riders of all ages and skill levels to enjoy the ride at their own pace. Our trained operators will ensure a smooth and controlled experience, guaranteeing the safety of all participants.
The Mechanical Bull is not only a thrilling ride but also a great way to add some friendly competition to your event. Challenge your friends, colleagues, or family members to see who can hold on the longest, creating unforgettable memories and moments of laughter.
We understand that safety is a top priority, which is why our Mechanical Bull is equipped with advanced safety features. The soft landing pad surrounding the bull provides a cushioned area for riders to safely dismount. Our team will also provide safety instructions and guidelines to ensure everyone's well-being throughout the ride.
So get ready to saddle up and experience the adrenaline rush of a lifetime with our Mechanical Bull. Stay tuned for its grand arrival and be sure to book early to secure this thrilling attraction for your upcoming event.